What to do when it all goes wrong, and how will you fix it?
The late June morning was perfect weather for a sunrise shoot on Elk Lake. It was idyllic, we wrapped by 10, and were back at our accommodations at Black Butte Ranch by 1pm.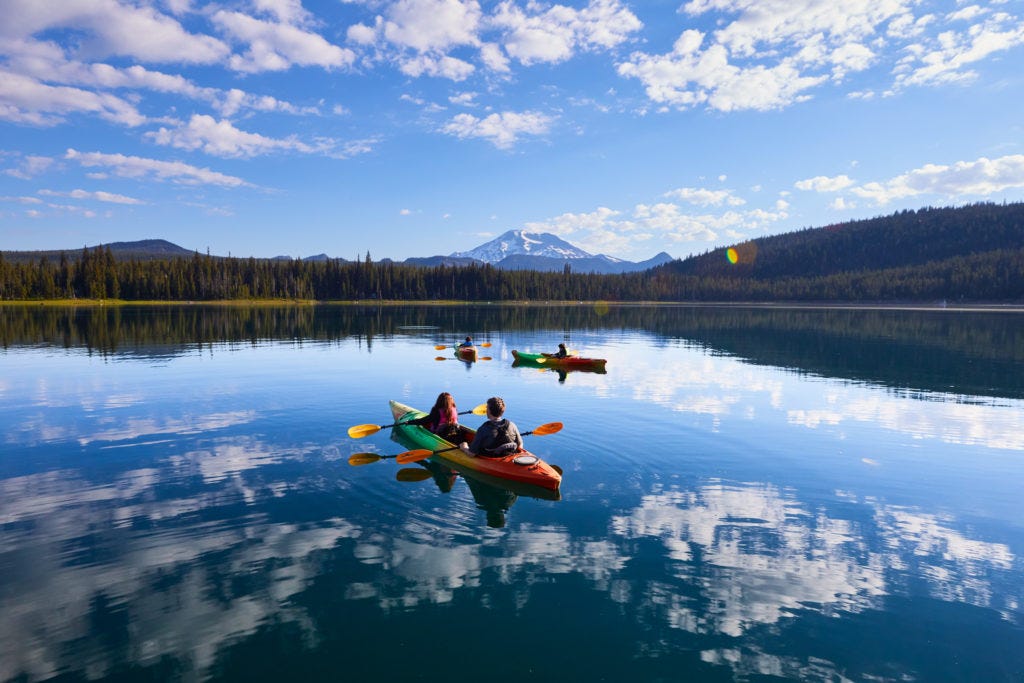 The Hall family are on a glassy Elk Lake at dawn to soak up the incredible view.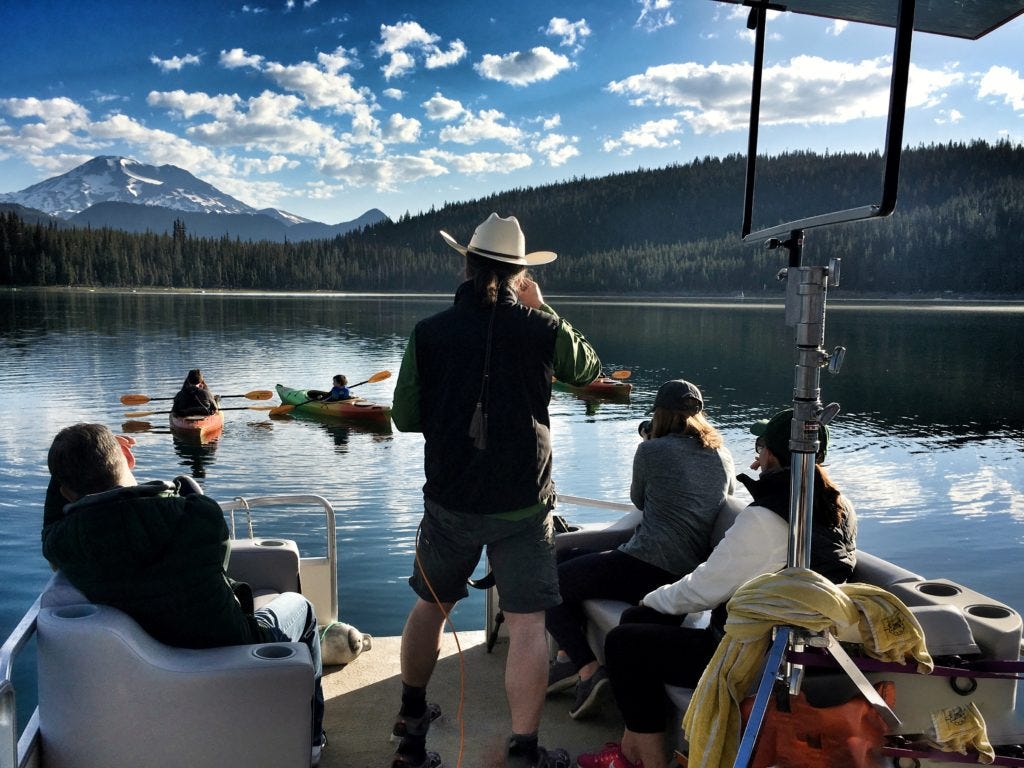 The perfect place to shoot kayaking from is a party boat! Our next call time at Black Butte Ranch wasn't until 4pm, so we all took a much needed 2 hour nap.
We woke up to thunder. I couldn't believe what I was hearing. It's not supposed to rain in the summer in the Central Oregon high desert. This will quickly pass, right? I started to wonder if we had spent all our 'good luck weather' in one place.
Agency, talent and crew met at 4pm and looked at each other with bewilderment. But mostly, they just looked to me. Now what? Fix it, Therese.
Cancelling a shoot due to weather is a hard decision for me to make. Can we power through? Will the weather suddenly break? The next scene was of a family playing corn hole—that game is played in the rain, right? That's normal, right?
We were also scheduled to shoot a scene of a family making s'mores around a fire. Could we at least get that shot? It's a twilight shoot, we can still do that, right?
The lightning struck. The thunder cracked. Then the rain fell. In buckets.
I set out all my note cards and looked at my options.
[video width="720" height="1280" mp4="https://news.andybatt.com/wp-content/uploads/2018/09/IMG_0096.mp4"][/video]
Ignore the rain, and shoot it anyways. We've done that plenty of times. The CD said  "Sure, you could take a bunch of bad pictures. But why bother?" Good point, I can't argue with that.

Shoot corn hole in the morning (during scheduled time off for cast and crew) and shoot s'mores tonight (fuck the rain).

Shoot corn hole in the morning and shoot s'mores tomorrow evening, after shooting all the other late day/early evening scenes we have to shoot. This would involve asking crew and talent to be flexible too.
At that point, I called it. Not gonna happen. None of it would look good with wet talent. UGH. Instead, we ordered a round of beers, and watched the lightning storm.
[video width="720" height="1280" mp4="https://news.andybatt.com/wp-content/uploads/2018/09/IMG_0097.mp4"][/video]
Luckily, we had clear skies again by morning. The agency account director asked  "why was it so hard to call the shoot, knowing that the weather was so bad?" Great question.
We were on day 1 of a 3 day shoot. It's my responsibility to review every single option before the obvious one, to do my due diligence. I have to think about my talent, my location, my crew - would they all be available for an alternate plan? And what would it cost? I had to quickly estimate the price tag for a cancellation vs.  a rescheduling, and present these numbers to the agency/client. Get all the options on the table, so that we can all make intelligent decisions. I have to go through this difficult process, otherwise, I lose sleep at night because I feel like I left an option on the table.
For this shoot, we had some fairly simple solutions, with a relatively inexpensive work-change order. But the difficulty in making this decision, even with simple solutions at hand, is knowing that I, alone, am responsible if it's not the right decision. If you've ever wondered what a producer does, this is it, right here. A producer makes the hard decisions, under pressure, while everyone is looking at her silently, wondering "how is she going to fix it?".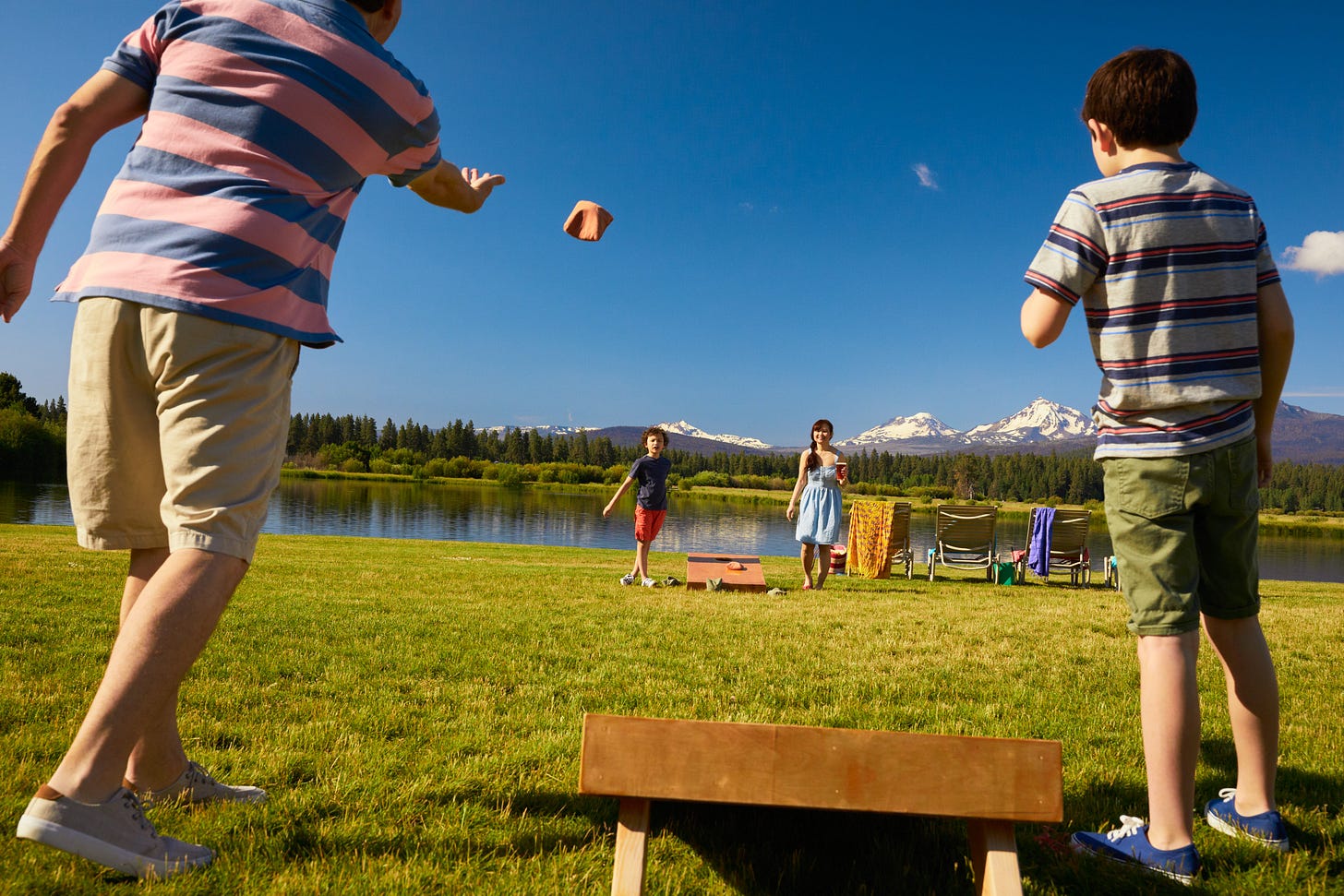 Cornhole the next morning turned out perfectly— Huge sigh of relief! See the rest of the shoot here.